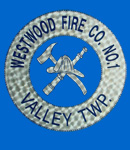 2016 Fire Call Stats
Jan
30
Feb
24
Mar
18
Apr
22
May
19
Jun
25
Jul
24
Aug
31
Sep
0
Oct
0
Nov
0
Dec
0
Total
193
2016 EMS Call Stats
A44
A144
Jan
94
122
Feb
92
101
Mar
81
127
Apr
94
107
May
99
94
Jun
96
104
Jul
101
108
Aug
108
126
Sep
0
0
Oct
0
0
Nov
0
0
Dec
0
0
Total
765
889
Past Call Stats
Year
Fire
EMS
2015
312
2329
2014
310
2388
2013
259
2294
2012
284
2045
2011
308
1278
2010
275
621
2009
304
639
2008
314
707
2007
321
663
2006
316
727
2005
344
796
2004
349
742
2003
388
625
2002
389
707

Visitors Today:

Visitors Since
September 16, 2005:




ATV 44 transport a paramedic into the woods where the motorcycle accident occurred.

Remote Area Motorcycle Accident in Valley Township

Firefighter/EMT Adam Grossman, September 24

On Saturday September 24th, 2016 at 1312 the Westwood Fire Company and Medic 93 were dispatched to the 200 block of Waverly Boulevard in Valley Township for an auto accident reported serious. Chief McWilliams marked enroute immediately and received a report of a motorcycle accident in the woods about 200-300 yards off of the cart road. Based on the reports an additional engine company, ATV and EMS ... (Full Story & Photos)


Eighth Annual Fire Company Family Appreciation Day

President John Sly, September 11

On Sunday, September 11th, 2016 our Active Crew volunteers, Career Staff personnel, and their families were once again invited to enjoy a day away from the firehouse to spend at Knoebels Amusement Park in Elysburg, Pennsylvania.

Knoebels Amusement Resort is America's Largest Free Admission Park which is home to some of the world's finest wooden roller coasters, classic amusement rides, park food, ... (Full Story & Photos)



Our families enjoyed another wonderful day at the Knoebels Amusement Resort for this annual event



A large brush pile and mulch were on fire on Strasburg Road.

Large Brush Pile on Fire in East Fallowfield

Firefighter/EMT Adam Grossman, September 11

Sunday September 11th, 2016 brought work for Westwood Volunteers when a mulch fire was reported to 911. At 1208 firefighters were called out to the 3100 block of Strasburg Road and found a pile of mulch on fire.

The assignment was cancelled as personnel on site at Weaver's Mulch were beginning to bring the fire under control with their bulldozers. This is a standard process that happens at this ... (Full Story & Photos)


9/11 Ceremony at East Fallowfield Elementary School

Firefighter/EMT Adam Grossman, September 11

Today marks the 15th anniversary of the September 11th, 2001 terrorist attacks on America. Designated by President Bush as Patriot Day, we again reflect on those who lost their lives that day and the unselfish bravery of the first responders and strangers who risked their lives to help others in New York, Washington DC, and Shanksville, Pennsylvania.

2,977 innocent men and women died in this terrorist ... (Full Story & Photos)



Area emergency service agencies and citizens gathered to honor the victims of September 11th, 2001.



Firefighters use a positive pressure fan to remove the smoke from the structure.

Stove Fire on Country Club Road

Firefighter/EMT Adam Grossman, September 09

On Friday September 9th, 2016 at 1854 the Westwood Fire Company was dispatched to the 200 block of Country Club Road in Valley Township for a stove on fire. Assistant 44 marked enroute at 1856 and was advised of smoke coming from the front of the house and the homeowner reported they knocked down the fire with a portable fire extinguisher. Engine 44-5 with a crew of 4 was also responding.

Arriving ... (Full Story & Photos)


Vehicle Overturned Into Sucker Run

Firefighter/EMT Adam Grossman, September 08

One vehicle left the roadway Thursday in Westwood and came to rest in Sucker Run after overturning. The call to 911 came just after 0500 and the accident occurred on Valley Road just East of Park Avenue.

Ambulance 44-1 arrived within minutes to find a patient still trapped inside. A medic unit was automatically assigned to the call based on the 911 reports.

Rescue crews utilized air bags and ... (Full Story & Photos)



Firefighters work to extricate a patient from an overturned car that landed in a creek.



Firefighters arrived to find a car well involved with flames.

Auto Fire in Highlands Corporate Center

Firefighter/EMT Adam Grossman, September 06

Flames broke out Tuesday from an automobile in the 700 block of Fox Chase in Valley Township. Around 1815 the call come into 911 when a UPS delivery driver noticed smoke coming from a vehicle in a business parking lot.

Within minutes firefighters were on scene dousing the flames. Sadsburyville Engine 31-1 led off with their front bumper pre-connected hose line to extinguish the fire. Engine 44-5 ... (Full Story & Photos)


Engine 44-5 Awarded Best Tanker at Kennett Housing

Battalion Chief John Sly, August 27

On Saturday, August 27th, 2016 following a very long night of service at the East Brandywine house fire, Engine 44-5 traveled to the Kennett Fire Company for the housing ceremony of their new Tower Ladder.

The day prior, Firefighter Ranck spent a great deal of time cleaning and preparing our Pumper/Tanker for judging at the Kennett event. Unfortunately, the house fire wiped away all the shine and ... (Full Story & Photos)



Engine 44-5 was awarded as the "Best Appearing" Tanker at the Kennett Fire Company's housing ceremony